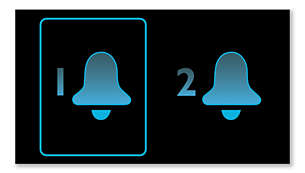 Dual alarm to wake you and your partner at different times
The Philips audio system comes with two alarm times. Set one alarm time to wake you up and the other time to wake up your partner.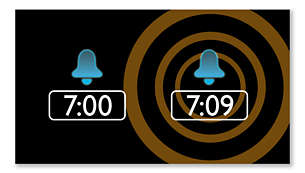 Repeat alarm for additional snooze
To counter oversleeping, the Philips Clock radio has a snooze feature. Should the alarm ring and you wish to continue sleeping a bit longer, simply press the Repeat Alarm button once and go back to sleep. Nine minutes later the alarm will ring again. You can continue to press the Repeat Alarm button every nine minutes until you turn off the alarm altogether.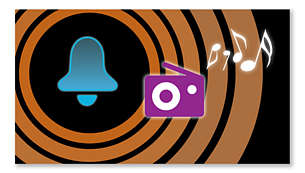 Wake up to your favorite radio tune or a buzzer
Wake up to sounds from your favorite radio station or a buzzer. Simply set the alarm on your Philips Clock radio to wake you with the radio station you last listened to or choose to wake up with a buzzer sound. When the wake up time is reached, your Philips Clock radio will automatically turn on that radio station or trigger the buzzer to sound.