86% Energy Saving due to Quick & Efficient Heating.
No flame, no smoke and no radiation makes it safe and ecofriendly.
The glass top stays cool so no burned fingers or hands. Faster cooking ensures all the freshness remain in the food.
Easy to carry and handle hence user friendly.
What is an Induction Cooktop?
Induction cooktops use electromagnetism to generate heat directly, making the cookware the heat source. This heat is then conducted to the food inside the cooking vessel.
Features of Induction Cooktops
Cooking Speed
Induction cooktops heat up faster and are more efficient than radiant cooktops. The design of an induction hob is such that the pan is heated instantly.
Additionally, since no heat is lost to the area around the induction cooktop, the amount of time it takes to cook the food is a lot less than that of radiant heated cooktops.
Safety
One factor to consider before buying a new cooker is its safety, especially for families with children.
A radiant cooktop retains heat a lot longer after cooking than an induction hob. However, many modern radiant cooktop models come with a heat indicator that tells the user the cooktop's hotter parts. They also offer safety features that vary according to the model selected. For example, Wolf, GE, Gasland, and other manufacturers include child locks in electric stovetops with a glass-ceramic surface.
Since induction cooktops heat the pot or pan directly instead of the top of the cooktop, the cooking surface doesn't get hot until the induction-ready cookware is placed on the cooking zone.
FREQUENTLY BOUGHT TOGETHER 

SOLD OUT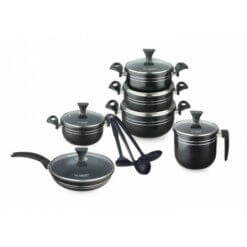 Out of stock
LKR

37,950.00
or 3 X
LKR12,650.00
with