System Summary  
| | |
| --- | --- |
| System Capacity | 40 KW System Three Phase |
| Panel Quantity | 80 Panels |
| Panel Size | 27  square foot (ft²) |
| Roof Surface Area Required | 2190 square foot (ft²) |
| Total Panel Weight |  2400KG |
| Monthly Power Generation (units) |  5500 Units |
| Total System Price | LKR 6,100,000/= |
| Monthly Payback from CEB/LECO | LKR 203,500/= |
| Number of Months to Recover Invesment |  2 Years 5 Months |
| Useful Life of Solar PV System | 25 Years |
| Total Savings for 20 Years (LKR) | LKR 48,840,000/= |
System Components – All INCLUSIVE
40KW Solis Three phase Inverter (Three phase)
80 x 550W Solar Panels
80 x Solar Mounting Set
Three  Phase Accessories

1) SPD /DC/3P – 2 pcs
2) Isolating Switch /DC/DIN – 1 pcs
3) SPD /AC/2P – 1 pcs
4) MCB /AC/2P/32Am – 1 pcs
5) Isolating Switch /AC/2P/32Am/With Box – 1
6) Distribution Box – 12Way – 2 pcs
7) Junction Box /32Am/2P – 1 pcs
8) PV Solar Cable – Black – 30 m
9) PV Solar Cable – Red – 30 m
10) MC4 Connector – Pair – 2 pcs
11) Polycrome Conduit 25mm – 24 pcs
12) AC Cable – Single Core-6mm/Blue – 20 m
13) AC Cable – Single Core-6mm/Brown – 20 m
14) Earth Cable-6mm – 20 m
15) Earth Rod – 1 pcs
16) Wiring Accessories – Others – 7 pcs
17) Wiring Charges – 1
18) Charted Engineer Certification – 1
WARRANTY
| | |
| --- | --- |
| Solar Panel Performance Warranty | 25 Years |
| Solar Panel Product Warranty | 12 Years |
| Inverter Warranty | 10 Years |
| Steel Mounting Structure Warranty | 10 Years |
| ELECTRICAL EQUIPMENT,SWITCH GEAR AND SURGE Protection Devices | 1 Year |
What is a Grid – Tied System
A Grid-Tied system is by far the most common type of residential PV system as well as the simplest and least expensive it connects to the electric utility Grid (CEB or LECO) and uses the grid for storage and backup of solar energy produced by the PV system. When the Solar Pv System Produces more power than the house uses the excess power is fed back to the grid turning the utility meter backward and you get credit Rs 37 for it  When the house needs more power than the solar pv system provides especially at night the house can pull the power from the grid. Even if you use more power from the grid than the solar pv system provides the bill will be reduced due to the power produced from the solar pv system
Advantages of Grid Tied System
Advantages of grid-tied systems include simplicity low cost and low maintenance making them the obvious choice for homeowners already using utility power which is most homeowners.
Why switch to solar power
Sri Lanka is one of the most expensive energy markets in the world. The use of solar can significantly reduce or eliminate your electricity bill as well as ensure an uninterrupted power supply. The average payback on solar power in Sri Lanka is 5 years. After this payback period, you are earning money on your roof.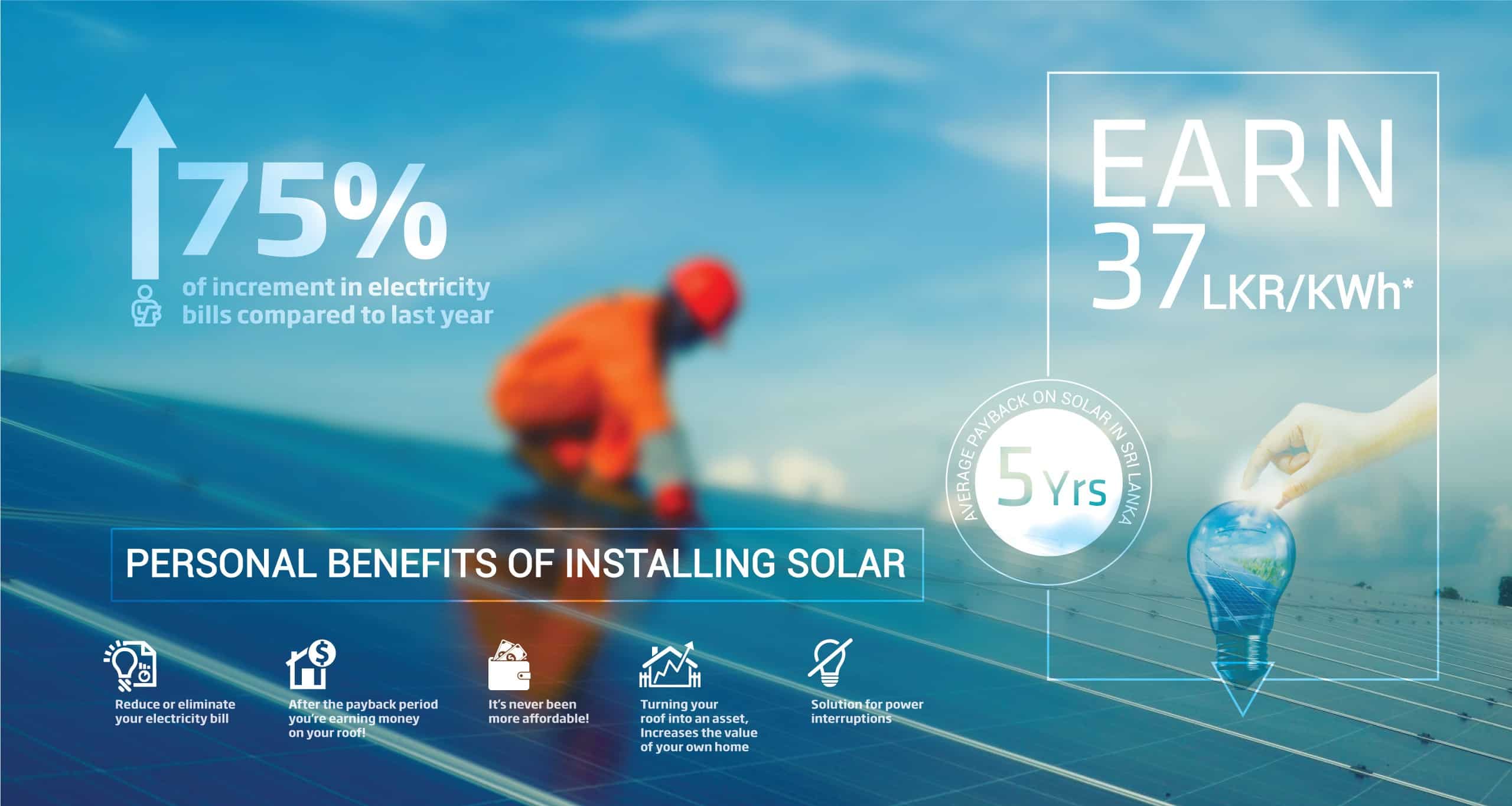 Solar electricity solutions – Select Your Preffered Option
Net metering

Best choice when your bill is high and you have limited roof space.
Zero your bill if you generate electricity as much as you consume.
The energy you consume – Energy generated through solar = what you pay.
If you produce more than you consume, it rolls forward and is deducted from your next bill.
Net accounting(Recomended for Residential PV Systems)

Best choice when your bill is low and you have more roof space to generate more electricity than you consume.
Zero your bill if you generate as much as you consume.
If you produce more electricity than you consume, you will be paid LKR 37/- per unit* for excess.
Net plus

Best choice when you are an industrial electricity consumer and when you cannot recover your electricity bill by solar, but still you have a large roof area such as a warehouse.
Earn LKR 37/- per unit* for the energy you generate.
Continue to pay the electricity bill as it is
Monitoring
Real time monitoring can be done
Online via connecting to wifi with the inverter and home router (sunny portal)

Logging by the relevant app using android device

Logging via windows devices by sunny explorer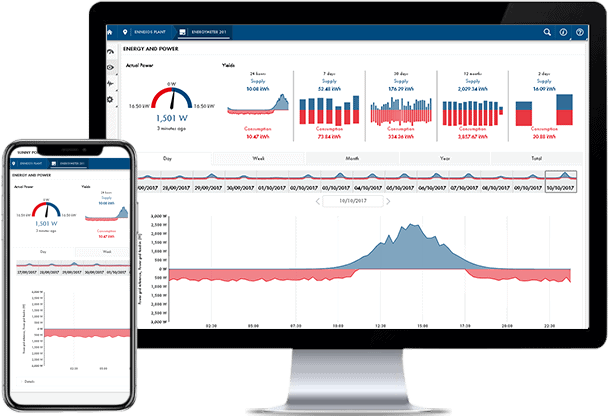 On-Grid solar PV system Basics And Major Components ( ALL COMPONENTS ARE INCLUDED IN THIS PACKAGE)
Sunlight falls on solar panels during daylight hours.
The solar panels convert the sun's energy into direct current (DC) electricity which is sent to an inverter.
Inverter converts direct current (DC) into alternating current (AC).
One phase of this alternating current flows to the meter and through the meter, it goes to the national grid.
Other phase will flow to the house and energize domestic electrical equipment in the daytime.
Production in the solar panels can be monitored via monitoring devices such as smartphone or computer.
Further, daytime production, monthly production, yearly production of the panels as well as power, voltage and the current of the inverter can be analyzed through performance monitoring.
Other components ( Included in Package)
AC/DC cables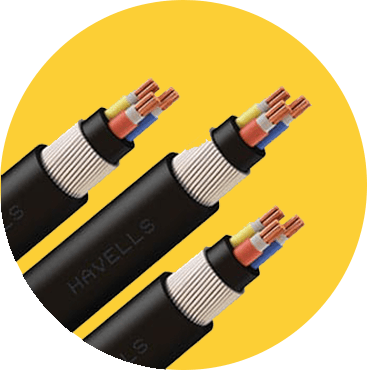 High-quality cables are used for power wiring. Solar cable is the interconnection cable used in photovoltaic power generation. Solar cables interconnect solar panels to the inverter. Solar cables are designed to be UV resistant and weather resistant. The AC link is of high quality (Cu/PVC/PVC) cables. Selection of the wire sizes are made according to British standard BS 7671 and BS6346.
Surge protection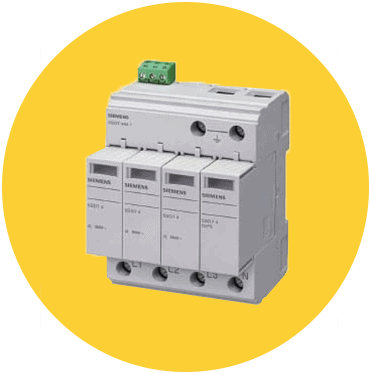 The inverter comes with an inbuilt protection system for surge conditions. In addition to the inbuilt protection, we provide external protection system to enhance the system's protection level. The unit includes DC Disconnecting switch, DC Surge arrestors, AC surge arrestors and MCBs. The warranty for this unit is 1 year for manufacturing defects.
Monitoring structure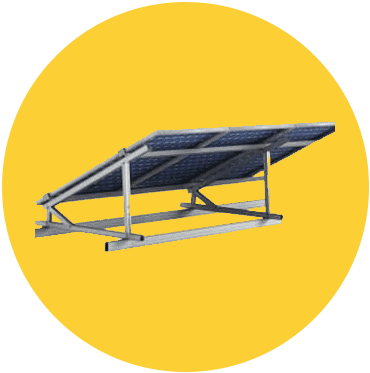 Standard aluminum rail 4200mm length Splice kits, End clamps, Mid clamps, and legs.